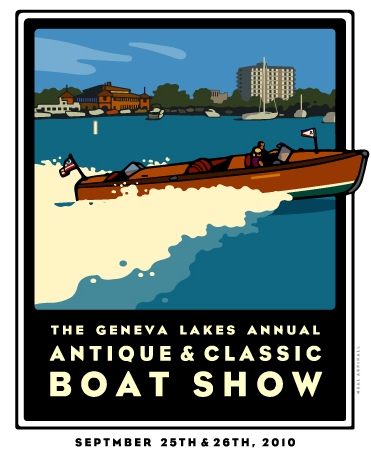 2010 Geneva Lakes Boat Show
The Geneva Lakes Show at the delightful Abbey Resort and Spa in Fontana WI broke all previous attendance records with a plethora of boats and a constant stream of spectators all day Saturday and Sunday, September 25 & 26. The Abbey Harbor was fully loaded with just over 100 beautiful, interesting, antique, classic, & contemporary boats of wood, fiberglass and even hybrid combinations. Represented were internationally known manufacturers such as Chris Craft, Century, Gar Wood and Riva, local companies including Streblow, Gage-Hacker and Blackfin/O'Neill Craft, and some more obscure as in Milo Craft, Greavette, Globe, and more.
This fun-filled weekend kicked off early on Friday morning as 150 of the captains and crew members gathered in the Harbor House for the lake tour aboard each of three well known Geneva Lake vessels, ("Polaris", a re-furbished 1898 73' boat; "Louise", a 1902 75' boat with a re-powered steam engine; and "Sea Lark" an 81' 2006 boat that incorporates design elements from the turn of the last century) to three destinations on the lake (ALTA VISTA, home of Michael & Jacky Ferro; GUDVALSIGNAT HEM, home of John and Linda Anderson, and the Lake Geneva Country Club).
Driving up to Fontana that morning I feared that these home and garden tours would be cancelled due to the incredibly high winds that would make boating not only unpleasant, but also dangerous. Indeed, Geneva Lake was roaring with not just white caps, but actual rolling waves which made boat travel for all of us impossible. But thanks to the magic of Larry Larkin, arrangements were made in short order for the tours to be done by bus. He quickly crafted a "Plan B", revising and synchronizing the schedules, creating maps and directions for all the bus drivers; and for the tour group leaders, a distinct plot of arrival and departure times for each bus at each stop. It was amazing how it was then perfectly executed allowing the drop off of us old kids back at the Abbey in time for the busses to pick the young ones up after school.
The Ferros and Andersons graciously allowed us to tour their gardens and residences, which were elegantly grand and picturesque, perfect for entertaining while still maintaining the charm and coziness of a family home, accompanied by exquisite views of Geneva Lake. All this was true of the O'Neill's home, also, our dinner hosts Friday night.
Alta Vista is an Italian Renaissance-styled villa built in 1920, and restored to much of its original glory since the Ferros purchased it ten years ago. The columned garden room in the center section makes it possible to look through the house from the entrance to the lake, flanked by two expansive wings. An interesting feature of this home is the model railroad based on Lionel "O" gauge trains, both historic and modern, that fills the third floor. Many of the engines, cars and accessories were purchased from the Museum of Science and Industry and incorporated into Mr. Ferro's layout—it is an amazing collection that must be seen to be believed!
Gudvalsignat Hem, (God's blessed home in Swedish) is a Shingle-Style Victorian home built in 2000, a modern home that incorporates many design elements from classic turn-ofthe- century lake homes. The home was designed so that the (Continued from page 1) The Smoke Signal PAGE 7 magnificent view of the lake can be seen from almost every room, and has many well thought out features that certainly caught the attention of the mothers and grandmothers on the trip, such as the individual rooms specifically for family photos, gift wrapping, theatre, toys, games and singing at gatherings, along with plenty of guest bedrooms. There was also the unforgettable closet in the master bedroom. In addition to being an avid gardener, John is an accomplished sailor and in August won the Inland Lakes Yachting Association's "A" boat regatta.
We finished off the tour with a great buffet lunch of salads and luncheon meats at the beautiful Lake Geneva Country Club. It was wonderful that the group did not have to miss this trip due to the angry lake.
Friday evening, Roger and Darlene O'Neill treated us to a cocktail reception along the waterfront at their lovely home, followed by dinner in their spacious carriage house. It was a fabulous buffet that began with green salad with blue cheese crumbles, an array of vegetables and oven browned potatoes, and a delicious tenderloin filet carved to order. Roger O'Neill gave a very interesting presentation about O'Neill Craft boats as dessert was served.
Saturday morning was a flurry of activity as the rest of the boats arrived for the show, either launching or setting up along with the artists and vendors in the lot or on the lawn. A fascinating new display this year was Dan Basore's museum-quality collection of historical fishing lures. The upcoming Warner Collection auction in Winstead, Minnesota also generated much interest. As always, the start of the engines and boat parade at the end of the day was a definite crowd pleaser.
On Saturday evening, 170 guests gazed out at the boats on display from the harbor view room at the Abbey during the cocktail reception and awards banquet. We dined on a variety of salads, vegetables, chicken, beef and ribs prepared by the Abbey's award winning BBQ pit master. The Chapter presented gifts of appreciation to the Andersons, Ferros, and O'Neills as dessert was served. Our youngest active Blackhawk member and boat restorer, Drew Vogeler, 17, gave a presentation thanking all who have helped him with his first 2 boat restorations. Blackhawk President, George Plamondon presented the President's Cup, Oops Award, and showed the promotional film for the upcoming ACBS 36th Annual Meeting & 10th International Boat Show that the Blackhawk and Glacier Lakes Chapters will be co-hosting September 18-24, 2011 in Chicago, Illinois and Geneva Lake, Wisconsin. Mark your calendars now; you'll want to be there!
Awards Winners
ACBS Most Original: Del VanEmmerik; 1959 16' Marine Plastic CarAqua
Peoples Choice: MATO - Dave Bortner; 1970 28' Riva Super Aquarama
Sharpest Arrow: Audrey III - Jim Altounian; 1954 24' Shepherd Runabout
Best Century: Miss Millie - Mark Svoboda; 1967 21' Century Coronado
Best Chris Craft: Effie - Tom Wahl; 1948 Chris Craft 25' Sportsman
Best Fiberglass Under 20': Lida Rose - John Gambill; 1957 19' Arena Craft
Best Classic Fiberglass 20' & Over: Greenlight - Roger O'Neill; 1983 28' Blackfin-ONeill
Best OutBoard: Full Metal Jacket - Paul Miller; 1930 12' Old Town
Best Contemporary Salon Cruiser: Quananiche - Robert Clifford; 2001 40' Grand Craft
Best Contemporary: Untouchable - Dave Bortner; 1995 28' Hacker Triple
Best Classic Utility Under 21': Miss Kimmy - Bill Shultz; 1957 20' Chris Craft
Best Classic Utility 21' & Over: Wooden Nickols - Tom Nickols; 1940 22' Chris Craft
Best Classic Runabout Under 21: Stifazabord - David Diggle; 1940 19' Chris Craft Deluxe
Best Classic Runabout 21' & Over: Victory Rose - Joe Zeliaski; 1951 29' Chris Craft
Best Antique Runabout-What Fun: George Plamondon; 1937 17' Chris Craft
Photo Gallery