Schedule of Events
---
Friday September 27 Estate Tour and Lunch
This year's cruise and house tour will visit three amazing estates on Geneva Lake, each with truly remarkable features. Transportation will be provided aboard three of the more interesting boats on the lake. The boats will be SEA LARK, POLARIS, and the Henry Knox. Lunch at the Lake Geneva Country Club is included. Tours will depart from the Lake Geneva Country Club. Tour time is approximately 4:45 minutes.
---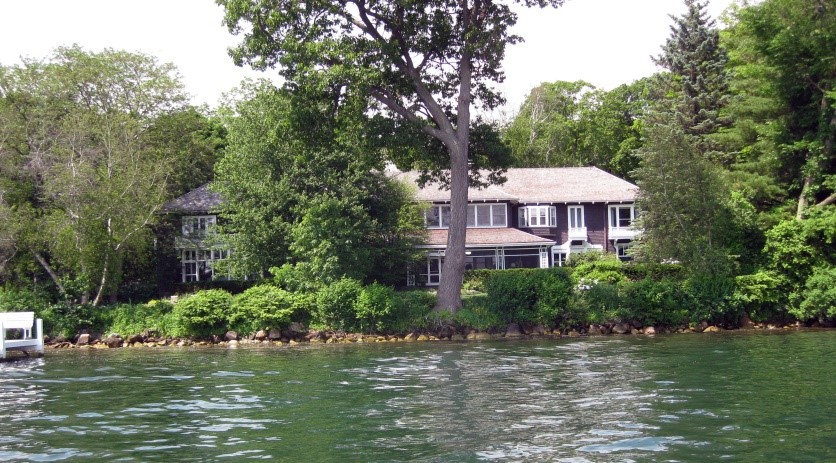 Joy Rasin home
Joy Rasin's home is known as Flowerside Inn. It was built in 1899 by Simeon B. Chapin, a stock broker in Chicago (later New York) and was owned by Mr. Chapin and his family until 1955. It is among the few Lake Geneva homes that still survive from the 1800's. Designed by Chicago architects Wilson and Marshall, it is a blending of American and English Country style homes and is surrounded even today by extensive gardens. The home is quite spacious with a large screened in porch, and several multipurpose rooms for dining and relaxing. The living room is 70 feet in length and 30 feet wide, and at one time housed the largest organ in Wisconsin.
---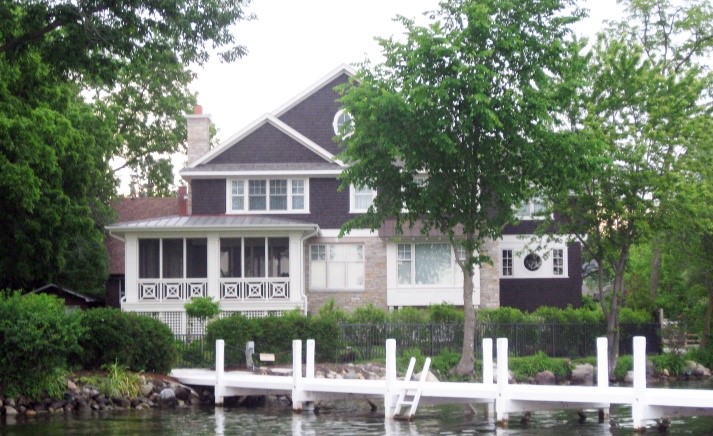 Al and Kathi Bosworth home
Al and Kathi Bosworth's new summer home located at Lake Geneva Pier #1 is the consummate lake home. This property has been in the Bosworth family for three generation since his grandfather purchased it in 1953. It is filled with custom woodwork and cabinetry made by Al's company, Hire Nelson, that is remarkably detailed and finished. Interesting and unusual woods are used throughout and extensive stone work and masonry highlight the exterior and driveway. The décor is special and the result of careful and tasteful selection by Kathi. There are many special features such as a hidden passage to the lake and a garage that is specially built to hold every imaginable type of water accessory.
---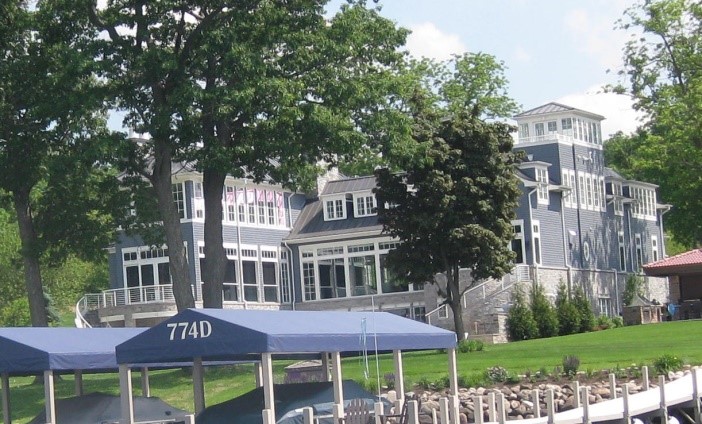 John and Sara Cobb home
John and Sara Cobb's recently built home in the historic Loramoor neighborhood was designed by Chicago based Morgante Wilson and built by Matustik Builders. The home was designed to see and enjoy all of Lake Geneva with over 150 windows that creates a dazzling panorama of light while allowing guests to see all of the lake and look through the house. Family and friends were the primary vision with a master bedroom that faces the lake, a child's lakefront bedroom room with a juliette balcony and guest rooms and bunk room for all their guests. The three-story interior with the 4th level "lookout tower" also features a 40-foot long suspended walkway at the second floor level that allows guests to see the bright, airy, modern interior and decor throughout the house. Their home focuses on family, friends, lake and comfort.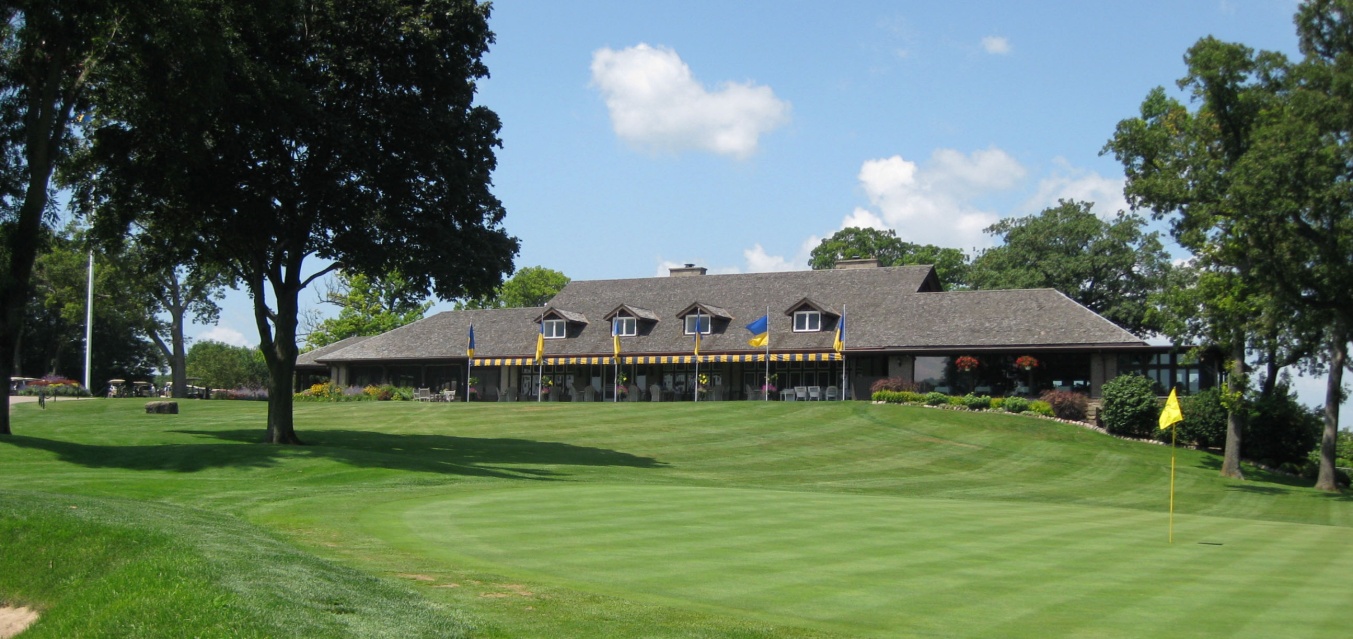 The Lake Geneva Country Club
Founded in 1895 by a group of Chicago business men, it is one of the oldest 18-hole golf courses in the Midwest. The course was originally laid out by the golf pro from St. Andrews in Scotland while on a tour of the United States and it is still basically unchanged from his concept. Indeed, many of the bunkers and course features have recognizable characteristics similar to St. Andrews.
Friday September 27 Reception Cocktails and Dinner
---

The Friday evening reception cocktails and dinner will be held at Geneva Lake Museum, a unique and spectacular facility displaying the rich history of Lake Geneva
Saturday September 28
---
Boats will be on exhibit all day Saturday, beginning at 10:00 am. Be sure you have your boat in the water by then, as we expect a lot of spectators. Local vendors will have items on display, and the Blackhawk Chapter's tent will once again offer t-shirts, posters and other items. The annual "starting of the engines" and boat parade will commence at 4:00 pm.
Saturday evening's dinner will be held in the Ball Room at the Abbey Resort. Cash bar will open at 6:00 PM, followed by a dinner at 7:30. This is an event you won't want to miss, as boat show awards will be presented at Saturday evening's dinner.
The People's Choice award will be presented on Sunday at 2:00pm. In an effort to honor the winners of the award categories, and recognize the owners, you must register for the Saturday dinner and be in attendance in order to be qualified to win one of the show awards. Award categories:
Blackhawk Chapter Sharpest Arrow
ACBS Most Preserved
Best Chris Craft
Best Century
Best Streblow
Best Contemporary
Most Historic
Best Fiberglass
Best Outboard
Skippers Choice
People's Choice
Pre-War
Best Utility under 22'
Best Utility 22' & over
Best Runabout under 22'
Best Runabout 22' & over
Post-War
Best Utility under 22'
Best Utility 22' & over
Best Runabout under 22'
Best Runabout 22' & over
Sunday September 29
---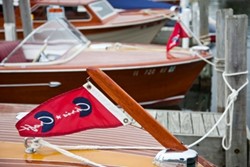 Sunday, boats will be on exhibit again at 10 am. People's Choice award and drawing winners announced at Blackhawk tent at 2 pm. Each year we have many spectators who attend the boat show on Sunday afternoon expecting to see the full line-up of boats on display. Therefore, participants are asked to leave their boats in the water (and land displays intact) on Sunday until 3:00 pm when the boat show officially ends.