Schedule of Events
---
Friday September 28 Estate Tour and Lunch
This year's cruise and house tour will visit three amazing estates on Geneva Lake, each with truly remarkable features. Transportation will be provided aboard three of the more interesting boats on the lake. The boats will be SEA LARK, POLARIS, and the Henry Knox. Lunch at the Lake Geneva Yacht Club is included. Tours will depart from the Abbey Harbor House in Fontana. Tour time is approximately 4:45 minutes.
---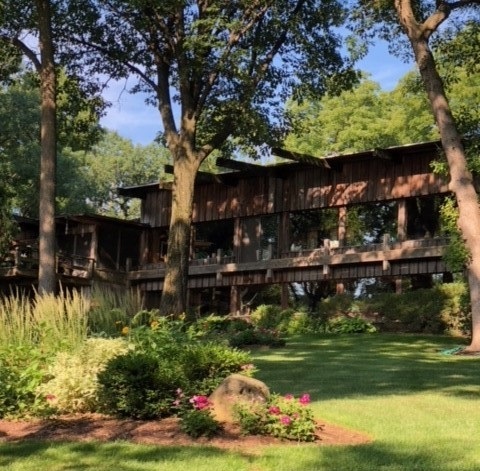 Tom and Geri Whowell's home
Tom and Geri Whowell's home is among the most unique on Lake Geneva. Sited on a high promontory overlooking the lake, the house overflows with flowering plants, ferns and ivy. The construction and built-in features are done in natural finishes with large timbers throughout. Many of the furnishings are made from interesting and unlikely materials. The furnishings are eclectic and the home abounds with collections and memorabilia of all kinds. Truly a delight to experience.
---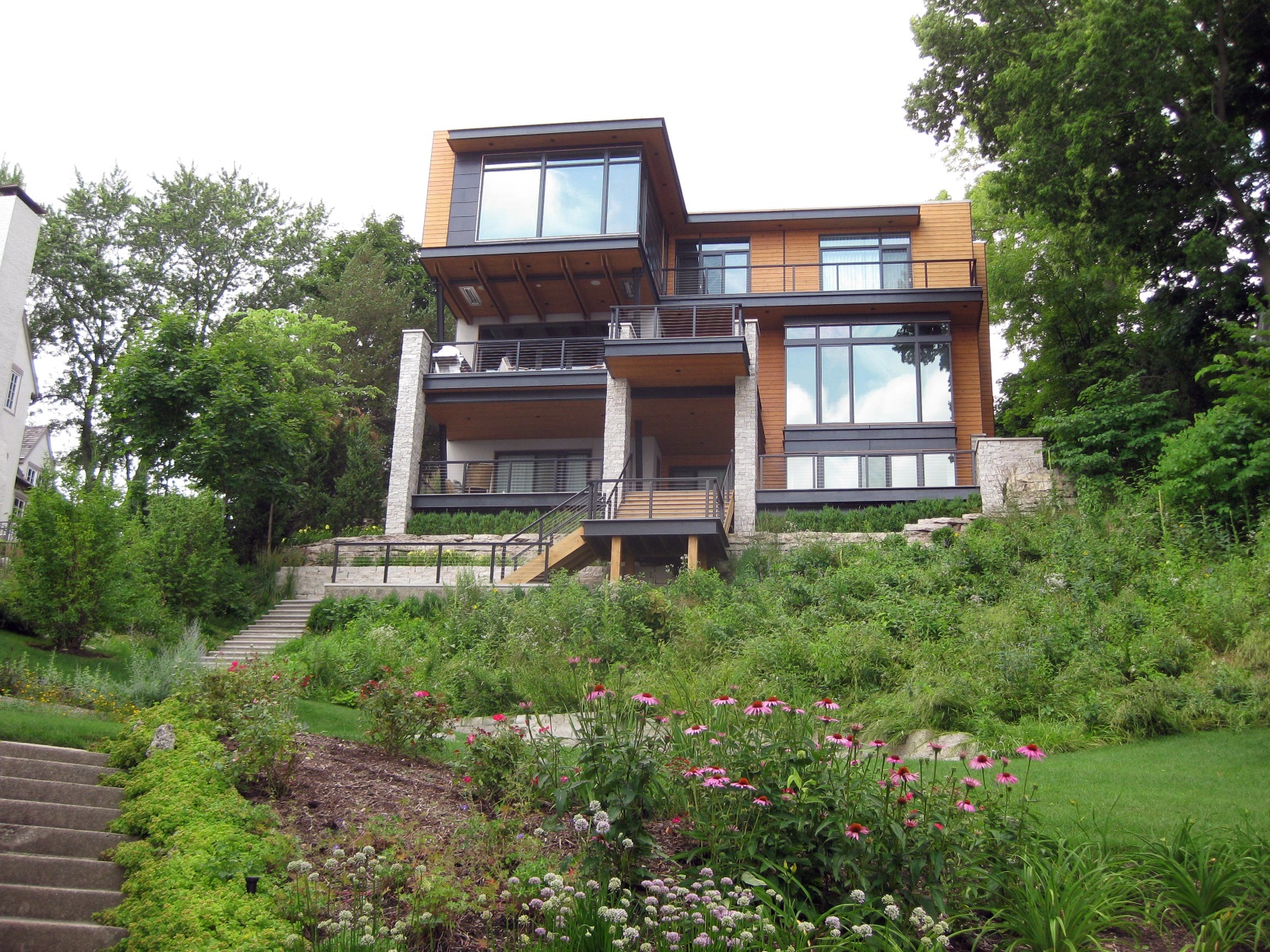 Michael and Marie Keefe's home
Michael and Marie Keefe's new award-winning home was designed by Justin Bucy and styled by Jeff Mulcrone of BSB Design, and built by John Engerman Contracting. The design is both modern and classic with sweeping vistas of the lake made possible by stacking architectural cubes and creating a cantilevered structure. Elegant floor to ceiling windows bring the lake to you in every room. Wood beams have been added to soften the supporting structure along with subtle reveals and moldings giving a crisp look while maintaining a warm feeling. The house received an award from the National Association of Home Builders for Best Architectural Design in a one-of-a-kind home in 2018. This is a bold new approach in styling. According to builder John Engerman, the entire project is an intentional departure from tradition that best utilizes the land while capturing remarkable views.
---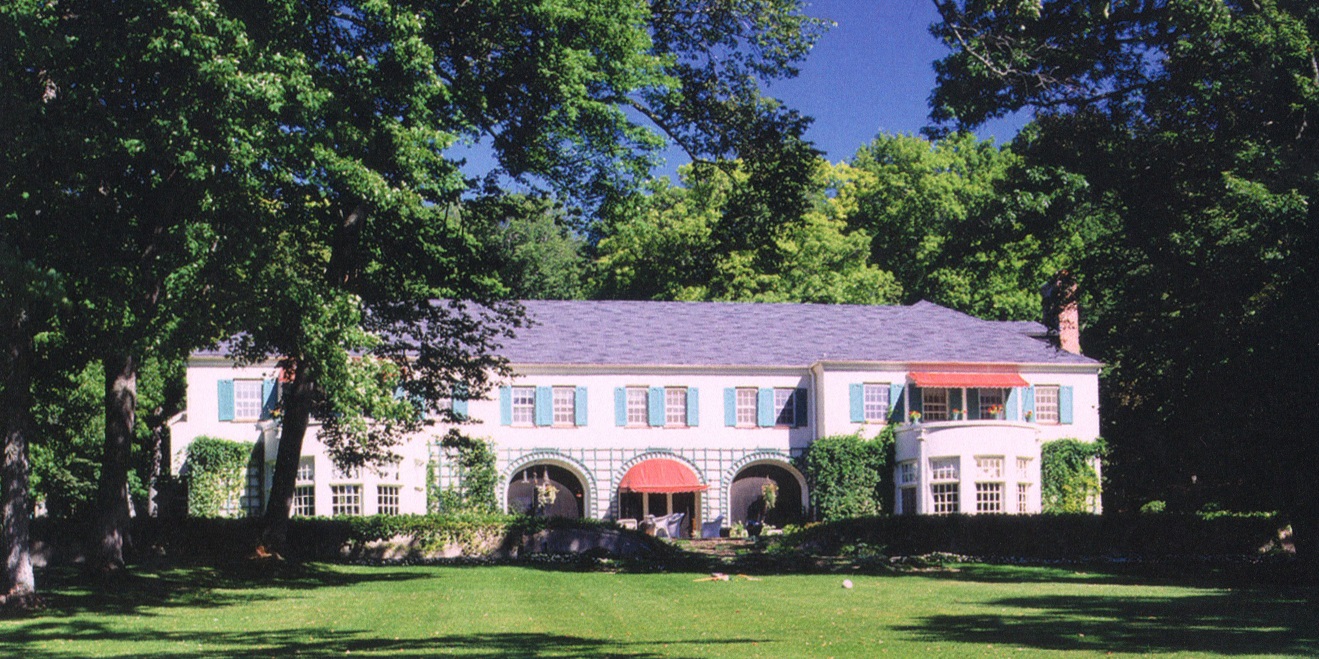 Shirley and Patrick Ryan's home
Shirley and Patrick Ryan's, House in the Woods, is among the very finest on the Lake. It was built by Adolphus C. Bartlett, a partner in Hibbard, Spencer, Bartlett Hardware Co. which later became True-Value Hardware. Construction took place during the winter of 1905 under a circus tent to allow work to proceed in all weather. The home was designed by Howard VanDoren Shaw, the premier residential architect of the period, and styled by artist/muralist Frederick Clay Bartlett. It was featured in the 1909 Ladies Home Journal with the observation that it was among the most beautiful homes in American, and a few years later it was included in a list of the best twelve Country Homes in America in a national magazine survey.
The large main house facing the lake is 110 feet long with two 78 foot long wings forming a U around a swimming pool in the center. Across the back of the U was originally a studio for Frederick Clay Bartlett's art work but it has been made into guest quarters. The home is absolutely exquisite in decoration.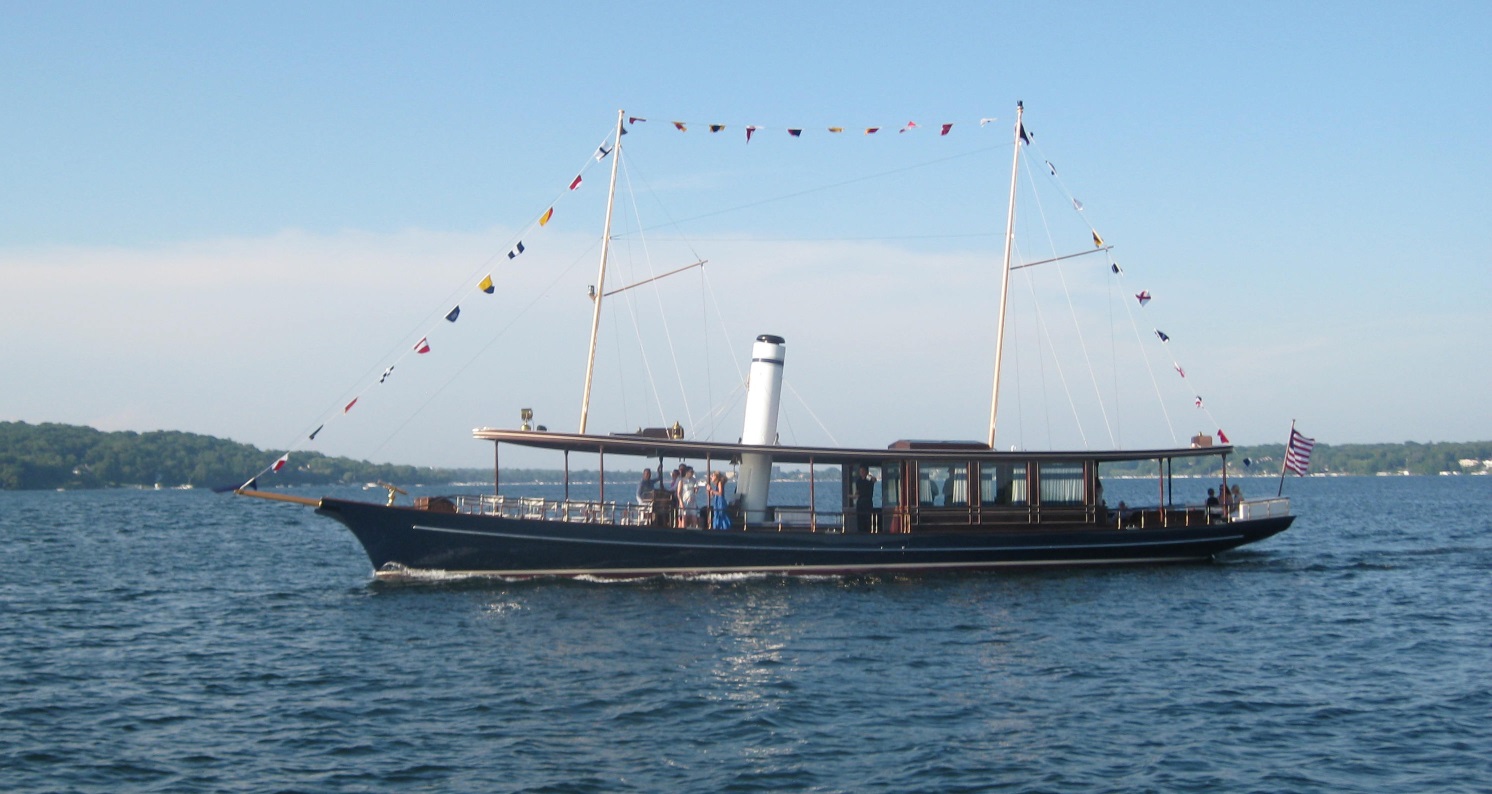 Pat Ryan, Jr's new boat is named Henry Knox, after a famous revolutionary war general who later became George Washington's first Secretary of War. Fort Knox and Knox College are also named for General Knox, but he is most famous for hauling 50 cannon from Fort Ticonderoga 300 miles in the middle of winter to Dorchester Heights overlooking Boston, successfully driving the British out. Mr. Ryan admired the General's achievement and wanted to honor his memory by naming the boat for him.
The boat was just launched in June. It is 88 feet long and displaces 70,000 pounds (35 tons).The boat's design is based on early Lake Geneva steamboats that were abundant during the 1890's. Boats of this era still had sails for propulsion but steam engines were coming in to replace them. However, this remarkable boat, while true to boats of that era in appearance, is state of the art today in terms of its computer controlled mechanical and electrical systems. It is battery powered and driven by electric motors which are absolutely silent. Among its many unique features is a gyro stabilizer to prevent the boat from rocking from side to side. The cabin is Honduran mahogany, the deck is Burmese teak, and the hull is aluminum. A wonderful recognition of Lake Geneva's maritime heritage.
---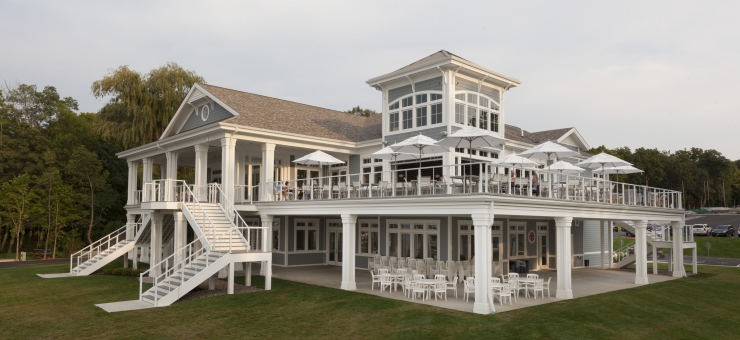 The Lake Geneva Yacht Club
Founded in 1874, the Lake Geneva Yacht Club is one of the oldest and most internationally renowned of the ILYA Clubs and is the site of numerous international and National Sailing competitions. Additionally, the LGYC is the home of Olympic Medalist and World Champion sailboat racers.
Friday September 28 Reception Cocktails and Dinner
---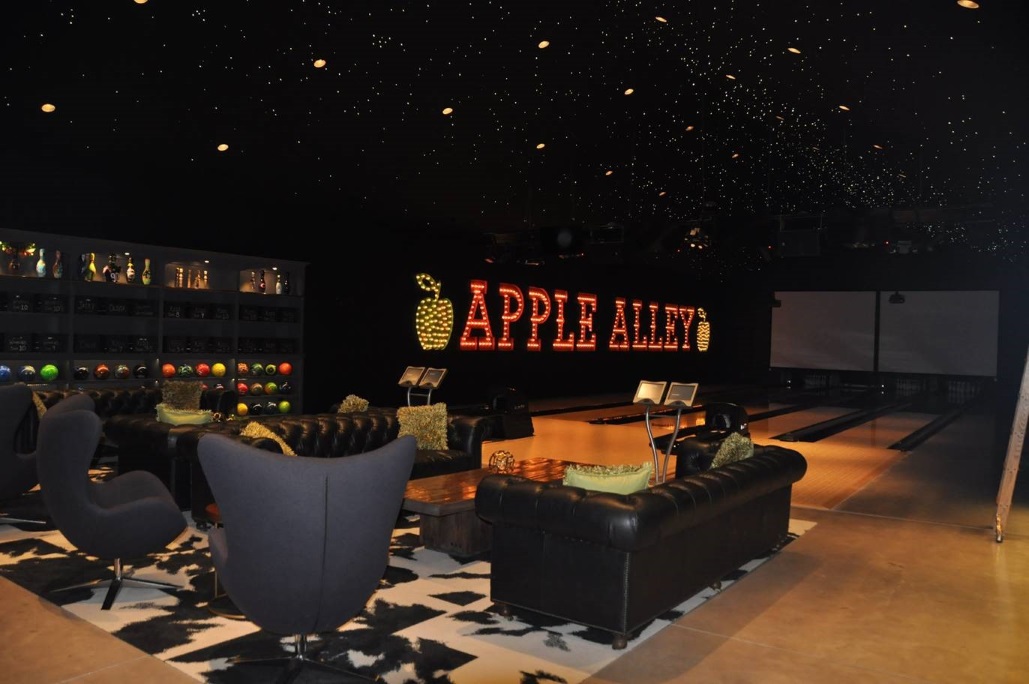 The Friday evening Welcome Reception will be held at Michael Ferro's Apple Orchard and Entertainment Center. This unique facility is located on Mr. Ferro's farm and features homemade apple cider and other comestibles grown on site. The building also includes bowling allies and a virtual golf course.
Saturday September 29
---
Boats will be on exhibit all day Saturday, beginning at 10:00 am. Be sure you have your boat in the water by then, as we expect a lot of spectators. Local vendors will have items on display, and the Blackhawk Chapter's tent will once again offer t-shirts, posters and other items. The annual "starting of the engines" and boat parade will commence at 4:00 pm.
Saturday evening's dinner will be held in the Ball Room at the Abbey Resort. Cash bar will open at 6:00 PM, followed by a dinner at 7:30. This is an event you won't want to miss, as boat show awards will be presented at Saturday evening's dinner.
The People's Choice award will be presented on Sunday at 2:00pm. In an effort to honor the winners of the award categories, and recognize the owners, you must register for the Saturday dinner and be in attendance in order to be qualified to win one of the show awards. Award categories:
Blackhawk Chapter Sharpest Arrow
ACBS Most Preserved
Best Chris Craft
Best Century
Best Streblow
Best Contemporary
Most Historic
Best Fiberglass
Best Outboard
Skippers Choice
People's Choice
Pre-War
Best Utility under 22'
Best Utility 22' & over
Best Runabout under 22'
Best Runabout 22' & over
Post-War
Best Utility under 22'
Best Utility 22' & over
Best Runabout under 22'
Best Runabout 22' & over
Sunday September 30
---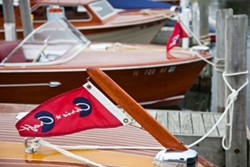 Sunday, boats will be on exhibit again at 10 am. People's Choice award and drawing winners announced at Blackhawk tent at 2 pm. Each year we have many spectators who attend the boat show on Sunday afternoon expecting to see the full line-up of boats on display. Therefore, participants are asked to leave their boats in the water (and land displays intact) on Sunday until 3:00 pm when the boat show officially ends.