Schedule of Events
---
Friday September 22 Estate Tour and Lunch
This year's cruise and house tour will visit three amazing estates on Geneva Lake, each with truly remarkable features. Transportation will be provided aboard three of the more interesting boats on the lake. The boats will be SEA LARK, POLARIS, and the steam boat LOUISE. Lunch at the Lake Geneva Country Club is included. Tours will depart from the Abbey Harbor House in Fontana. Tour time is approximately 4:45 minutes.
Pictures and text excerpts provided courtesy of At the Lake Magazine: Anne Morrissy, Barb Howell, and Shanna Wolf; and Keefe Real Estate.
---
Greg and Deborah Kunes home
The first home we will visit is the shingle-style residence of Greg and Deborah Kunes. This spectacular lake home was built in 2006 by premier homebuilder John Engermann and is rich with lake and nautical memorabilia. The exterior walls are constructed of granite boulders split to expose the grain within the stone while the mortar joints are recessed to give the walls texture. There are Chippendale styled wooden railings lining the upstairs balconies on the exterior and spindles made to simulate rope on the interior balconies and overlooks. The home is enlivened with extensive use of tile including a mosaic mariner's compass rose inlaid in the foyer floor, Italian tiles brought back from Rome in the wine room which is located adjacent to the dining area, and marble for sink bases in the bathrooms. The walnut is used extensively throughout the home for many cabinets, especially in the wine room. Brazilian Cherry, selected for its accented grain is used in the library. The basement fireplace was saved when the Butternuts, one of the earliest grand lake shore estates built in 1875 for Nathaniel Kellogg Fairbank, which was torn down in 1955. Other unusual features would be a bar and lounge in the basement made from a 1953 19-foot Chris Craft Holiday, a shower big enough for ten in the master bedroom, and a third floor craft room.
---
Jolynn and Michael Blair Home
The second home is Clear Sky Lodge owned by Jolynn and Michael Blair. This remarkable and absolutely unique 18-room 10,000 sq. ft. home was built in 1918 for Harley Clarke, an early investor in the electric power industry and later in Fox Films which would eventually merge into 20th Century Fox. Designed by Roscoe Harold Zook and landscaped by Jens Jensen, the home is based on an Austrian hunting lodge. The home is surprisingly original with birch bark wall paper and native wood structural parts and furniture construction. Leather is also woven into wall coverings and furniture and light fixtures incorporate animal motifs. The ceiling in the entrance hall is decorated like the caves at Lascaux, France with light fixtures designed incorporating animal motifs. There were seven other structures on the site, one being a personal movie theater which was frequented by several Blackhawk members in the 1950's
---
Susan and Tom Santefort home
The third home is My Blue Heaven and belongs to Susan and Tom Santefort. This is a terrific shingle-style home designed by architect R. R. Browne of West Dundee, IL. Furnishings and design are by Philip Sassano of Lake Geneva's Design Coach. The 10,000 sq ft home features seven bed rooms on three levels culminating in uniquely designed children's bedrooms on the third level. The home features both an indoor and outdoor pool and nautical accessories abound everywhere. The truly remarkable result of the harmony of design and decoration throughout the home is that it subtly blends into a decorative masterpiece.
---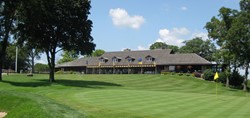 The Lake Geneva Country Club
Founded in 1895 by a group of Chicago business men, it is one of the oldest 18-hole golf courses in the Midwest. The course was originally laid out by the golf pro from St. Andrews in Scotland while on a tour of the United States and it is still basically unchanged from his concept. Indeed, many of the bunkers and course features have recognizable characteristics similar to St. Andrews.
Friday September 22 Reception Cocktails and Dinner
---
This year's Friday evening Welcome Reception will be held at John Simms, Jr's new boat house located at N1208 Academy Road. This boathouse is not on the lake but is located on John's equestrian farm about two miles south of the lake on Academy Road at the junction with County Road B.
The building is spectacular and is capable of housing any two of the lake's largest private boats. The floor is heated with the latest technology and is decorated with stained patterns in the concrete. The shops have the latest equipment, and the support facilities are amazing.
The building contains John's latest project, a 67-foot long re-creation of a 19th century Lake Geneva yacht that John is in the process of finishing himself. We will also be favored with a Power Point presentation describing the design and construction of the boat to date and John's vision for finishing the boat.
Cocktails at 6:00pm, dinner at 7:30, program at 8:30.
Saturday September 23
---
Boats will be on exhibit all day Saturday, beginning at 10:00 am. Be sure you have your boat in the water by then, as we expect a lot of spectators. Local vendors will have items on display, and the Blackhawk Chapter's tent will once again offer t-shirts, posters and other items. The annual "starting of the engines" and boat parade will commence at 4:00 pm.
Saturday evening's dinner will be held in the Ball Room at the Abbey Resort. Cash bar will open at 6:00 PM, followed by a dinner at 7:30, cost is $30 per person. This is an event you won't want to miss, as boat show awards will be presented at Saturday evening's dinner.
The People's Choice award will be presented on Sunday at 2:00pm. In an effort to honor the winners of the award categories, and recognize the owners, you must register for the Saturday dinner and be in attendance in order to be qualified to win one of the show awards. Award categories:
Blackhawk Chapter Sharpest Arrow
ACBS Most Preserved
Best Chris Craft
Best Century
Best Streblow
Best Contemporary
Most Historic
Best Fiberglass
Best Outboard
Skippers Choice
People's Choice
Pre-War
Best Utility under 22'
Best Utility 22' & over
Best Runabout under 22'
Best Runabout 22' & over
Post-War
Best Utility under 22'
Best Utility 22' & over
Best Runabout under 22'
Best Runabout 22' & over
Sunday September 24
---
Sunday, boats will be on exhibit again at 10 am. People's Choice award and drawing winners announced at Blackhawk tent at 2 pm. Each year we have many spectators who attend the boat show on Sunday afternoon expecting to see the full line-up of boats on display. Therefore, participants are asked to leave their boats in the water (and land displays intact) on Sunday until 3:00 pm when the boat show officially ends.